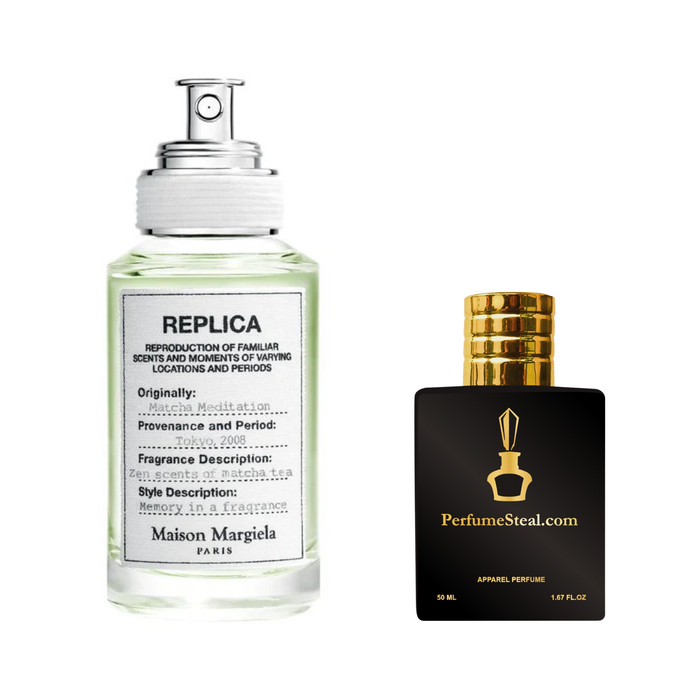 Matcha Meditation by Maison Martin Margiela type Perfume
Original price
Rs. 400.00
-
Original price
Rs. 900.00
Matcha Meditation is a fragrance created by Maison Margiela, a French luxury fashion house. It is part of the Replica collection and is known for its fresh, green, and slightly sweet scent. The fragrance features notes of matcha tea, mandarin, and vanilla, and is said to evoke the serene and calming atmosphere of a traditional Japanese tea ceremony.
Matcha Meditation is a unisex fragrance and is suitable for daytime wear. It is designed to have a moderate sillage and is known for its longevity, meaning it will last a good amount of time on the skin.
Maison Margiela is a well-regarded fashion house known for its innovative and avant-garde designs. The brand's Replica collection of fragrances is designed to capture and evoke memories, emotions, and experiences, and Matcha Meditation is a great example of this. The fragrance is a unique and memorable scent that is sure to leave a lasting impression.
Shipping
We take 36 to 48 hours for order processing & shipping.
Delivery takes 5-7 working days.
Disclaimer
We have created these fragrances through chemical analysis and reproduction, and the purpose of this description and images is to give the customer an idea of the scent character, not to mislead or confuse the customer
Based on your order, expect a 5ml or a 10ml rollerball of concentrated Perfume Oil or a 30ml / 50ml Perfume Spray.
The fragrance will be absolutely the same as that of the Perfume you have ordered. 
Frequently Asked Questions