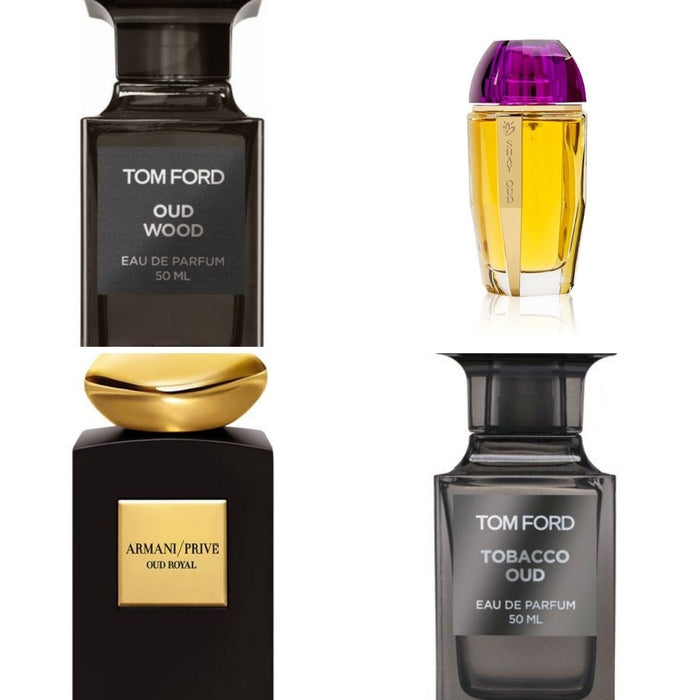 Best of PerfumeOilCorner Oud Delight
Original price
Rs. 1,200.00
-
Original price
Rs. 1,800.00
Rs. 1,200.00
-
Rs. 1,800.00
Current price
Rs. 1,200.00
A combination of 4 carefully selected must have fragrances with an oud flavor to suit your needs for all occasions and make you stand out.
Tom Ford Oud Wood type Perfume: Rare, exotic, and distinctive, this artisanal scent features classic woods and the iconic Tom Ford oud. Exotic rose wood and cardamom give way to a smoky blend of rare oud wood, sandalwood, and vetiver.

Tom Ford Tobacco Oud type Perfume: Tom Ford is a Woody Spicy fragrance for women and men. Tobacco Oud was launched in 2013. The fragrance features agarwood (oud), tobacco, sandalwood, patchouli, spicy notes and whiskey.

Shay Oud by Anfasic Dokhoon type Perfume: Shay Oud by Anfasic Dokhoon is a Oriental Fougere fragrance for women and men. Top note is pepper; middle note is rose; base notes are musk, amber and agarwood oud. 

Giorgio Armani Prive Oud Royal type Perfume: The Giorgio Armani Oud Royal fragrance showcases the precious and unique oud wood. This unique wood is more tantalizing than gold. Mystical and precious, and considered to be a second skin in the Middle East, this distinguished and noble material invites us to discover a captivating elixir of oriental fragrances.
Shipping
We take 36 to 48 hours for order processing & shipping.
Delivery takes 5-7 working days.
Disclaimer
We have created these fragrances through chemical analysis and reproduction, and the purpose of this description and images is to give the customer an idea of the scent character, not to mislead or confuse the customer
Based on your order, expect a 5ml or a 10ml rollerball of concentrated Perfume Oil or a 30ml / 50ml Perfume Spray.
The fragrance will be absolutely the same as that of the Perfume you have ordered. 
Frequently Asked Questions